The Rembrandt Restaurant, Norwich
We've been creating delicious food for over 14 years
From Humble Beginings
The culture of "fish and chips" encompasses the values of tradition and family; it is quintessentially British. Skip and Lucy's personal approach and delicious food have allowed them to run The Rembrandt as a successful venture for the past 14 years.
They offer a bar and restaurant with a cosy and relaxed atmosphere for everyone to enjoy a lovely hearty meal or simply just a drink. The charming local business aims to combine the nation's favourite meal with the needs of the contemporary customer, offering high quality and friendly service with the option of a take-away.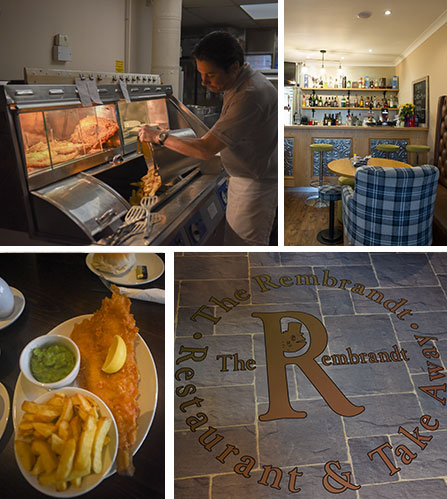 Our Love for Food
Whether you are after a coffee, a snack or something a little more filling there is something appetising for everyone at The Rembrandt, there is an expansive menu including starters, pizzas, yummy pies and burgers, sides and desserts. All meals are prepared and cooked fresh to order using locally sourced food ensuring the highest quality whilst supporting Norfolk farmers and a sustainable environment.
There is a variety of fresh fish everyday along with seasonal specials and the option of delicious home-made chips or a jacket potato. With generous portions, very reasonable prices and a lovely atmosphere this is a perfect place for a quick lunch, a scrumptious evening meal or just a couple of drinks at the bar.